Meet Our Donors
Meet Our Donors
We thank all our planned-gift donors for their generous support. Here are some of their stories.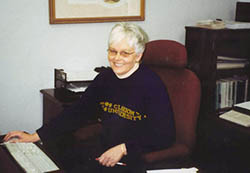 Bobbi Heeter
Bobbi Heeter retired in 2002, concluding a 28-year career with Clarion University, as executive associate in the office of the provost. At her retirement, she created the Bobbi Scholarship from her unused leave compensation.
The Bobbi Scholarship has already benefited many Clarion University students, while paying benefits to Heeter. The gift that created the scholarship reduced the impact of taxes she owed on her 2002 income, arranged a guaranteed annual income for the rest of her life, and supported her favorite charity, Clarion University.
Now, in retirement, Heeter continues to help Clarion University.
"I've made arrangements for Clarion University to receive my property at the time of my death," Heeter said. "I have no family of my own, and the property will be sold with the proceeds going to the Bobbi Scholarship. I would much rather have the money go to help students and have my name live on in this fashion."
Heeter's personal experiences drive her to help Clarion's students.
"My father passed when I was 14," Heeter said. "When I went to business college, I had to take out a PHEAA loan and use my father's Social Security benefits so I could afford to go to college. I could have used a scholarship, and I remembered that fact when I had the extra money at retirement."
Heeter graduated from DuBois Business College in 1969, and worked in DuBois until 1973. At that time she was hired at Clarion University.
"I spent over a quarter of a century at Clarion University," Heeter said. "I will always have devotion to Clarion University. All of what I have done and continue to do will help students. It was important to me to contribute a meaningful legacy to Clarion University.
The Bobbi Scholarship was established to provide financial support for Clarion University students who are dependent children of widows or widowers. In addition, candidates must be incoming freshman, show financial need and achieve a good high school academic credential. It is awarded once every four years and will continue to support the same student throughout the student's entire undergraduate career, provided they maintain a 2.5 cumulative grade point average.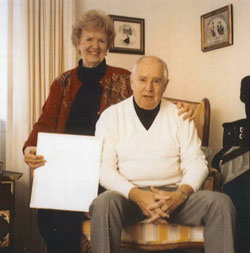 Pat Kelley
The E. James & Patricia M. Kelley Honors/Athletic Scholarship was established by Pat Kelley in loving memory of her husband, James Kelley, class of 1950, who passed away in 2010. Jim earned his undergraduate degree at Clarion State College where he played both basketball and baseball. His love of academics and sports led to the creation of this combined scholarship for the Honors Program and athletics.
Jim often told Pat how much he loved his time at Clarion. During their 56 - year marriage, he talked about the professional opportunities and wonderfully fulfilling career he had enjoyed, crediting Clarion University with creating the foundation. Kelley completed his master's degree at Indiana University of Pennsylvania, then earned his doctorate from Penn State, where he became dean of continuing education.
The Kelleys lived in State College and were deeply involved with the Penn State culture, especially sports. They realized that Penn State had so many generous donors and felt that Clarion could benefit from their support, so, they discussed creating a scholarship at Clarion.
Soon after Jim passed away, Pat contacted Clarion University Foundation, Inc., to find out more about creating the scholarship that she and Jim planned. A wonderful relationship with Pat developed, and continues. The criteria for awarding the scholarship were discussed, including the elements most important to the Kelleys – academics and athletics.
Pat had planned to name Clarion University Foundation, Inc., as beneficiary to a life insurance policy that would be paid upon her death, but she wanted to start the scholarship sooner so that more students could benefit from the financial assistance. With a $100,000 gift in mind, she decided to give half - $50,000 - to create the scholarship in 2011. The remainder will come to Clarion University Foundation, Inc., as the beneficiary of a $50,000 life insurance policy.
A gift of life insurance is one that is easy to do and costs you nothing during your lifetime. Benefits include a tax deduction for the cash surrender value of the policy and the satisfaction of making a significant gift to the students and programs of Clarion University.
Make a significant gift to Clarion University Foundation, Inc., even without a large estate. Here's how you can leverage your dollars for a larger gift: Learn more about Gifts of Life Insurance.